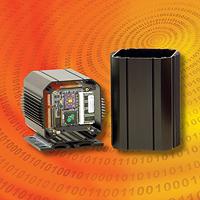 The CT104 CanTainer is a rugged PC/104 enclosure systems constructed of .125° aluminum and designed for hostile and mobile environments. It features a dual system of shock and vibration isolation: The PC/104 modules are mounted axially in the enclosure with four internal rubber corner rails to absorb high-frequency vibrations, while the entire enclosure is mounted on the host platform with a thick rubber pad which absorbs low-frequency G-forces. The rubber pad may be removed for optional mounting solutions such as hard mounting, flange endcap, or fluidic mount assembly.
The CanTainer cross section measures 6.00″ wide by 5.45″ high (not including mounting pad) and is designed to mount PC/104 boards axially along the entire length of the enclosure body. The enclosure is available in standard lengths from 2″ and 12″ with custom lengths up to 48″.
To mount boards or items such as hard drives that are larger than 3.550″ x 3.775″, there is an optional septum plate. These install vertically into rails that run the length of the enclosure. For smaller items, an optional PC/104-size aluminum plate allows for direct mounting in the PC/104 stack. Each CanTainer is available as a kit complete with endcaps and mounting accessories. Additional blank and pre-designed endcaps are available, or the customer may design their own cutouts using a downloadable DWG file.
Application areas:
Instrumentation, data collectors, remote terminals, SCADA packages or other solutions to operate in hostile environments
Dual shock and vibration protection system
PC/104 Mounting
Available as a complete kit
Passively cooled
Easily customized: length, coating, etching, milling, mounting
6063-T5 extruded aluminum
.125° thick
High grade extruded rubber
Black anodized coating
Available in lengths from 2" to 12"