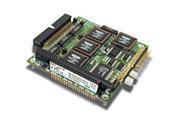 The SB-36310CX is a versatile, PC/104 card which contains one to four channels of fully independent Synchro-to-Digital or Resolver-to- Digital (S/R-D) conversion. For each channel the conversion process is implemented using a DDC RDC-19222S 16-bit monolithic converter and a thin-film resistor network.
Each converter can be configured for a 11.8 V line-to-line synchro/resolver, 90 V line-to-line synchro, or 2 V sin/cos signal input, and 10-, 12-, 14-, or 16-bit resolution. The user is provided with two operating frequency ranges. The low bandwidth card operates from 47 Hz to 5 kHz and is software programmable for bandwidths of 15 Hz or 45 Hz. The high bandwidth card operates from 360 Hz to 5 kHz and is software programmable for bandwidths of 80 Hz or 300 Hz. Each channel provides a separate reference input which is jumper programmable to accept either a 26 V or a 115 V signal. A synthesized reference and accuracy to ±1 minute is standard.
In addition to the angular position data, each channel provides a ±4 V Velocity Output Signal, and 16-bit Discrete I/O configured with 8 bits of input and 8 bits of output which are available for user defined functions. Demo software including source code is supplied with the card.
APPLICATIONS
The SB-36310CX is designed for modern, high-performance industrial and military control systems.Typical applications include motor control, machine tool control, robotic, antenna and process control systems.
Contains up to Four Independent Converter Channels
Accepts Synchro or Resolver Inputs
Accuracy to ±1 min.
Synthesized Reference
Velocity Output Signal for Each Channel
Software Programmable Resolution and Bandwidth
Jumper Programmable Reference Voltage Inputs
Discrete I/O for External Control Functions