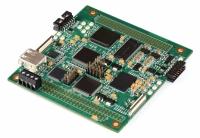 The continuing explosion in the use of display technology in a range of applications has resulted in the need to support a wide variety of video formats and interface standards. High end equipment, from industrial, military, mining, to visualization & gaming applications now routinely have multiple display devices – sometimes with different formats, resolutions, electrical interface, & performance characteristics.
The Scanverter series provides a number of rugged modules designed to convert between otherwise incompatible video formats and standards. Signals originating from any number of disparate sources including display generators, mission computers, FLIRs, radar, STANAG3350, & video cameras are scanconverted to produce sharp, rock-stable outputs to a different video display standard.
The Scanverters provide a rugged, versatile and dependable solution for video standards conversion for industrial and military applications.
STANAGVGA-IS - Stanag3350-to-VGA converter
VGACOMP-IS - VGA-to-PAL/NTSC/RS-170 converter
DVIVGA-IS – HDMI/DVI-to-VGA converter
STANAGDVI-IS – STANAG3350-to-HDMI/DVI converter
STANAGCOMP-IS - STANAG3350-to-PAL/NTSC/RS-170 converter
DVICOMP-IS - HDMI/DVI-to-PAL/NTSC/RS-170 converter
STANAG2LVDS - Stanag3350-to-LVDS scan converter
Operating system neutral
Standard PCI-104 mechanical form factor
Single +5V power supply
Stand-alone operation