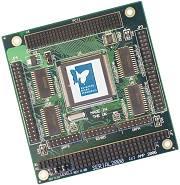 The Serial2000 Serial Port Controller features 8 serial asynchronous communication ports on a single low power PC/104-Plus card providing an unprecedented level of serial port integration, performance and flexibility. The Serial2000 provides a cost-effective solution for expanding the number of serial ports on a PC/104-Plus system.
The Serial2000 utilises ultra high performance industry standard UARTs with enhanced features resulting in improved flow control and extremely high data rates. Each one of the 8 channels on the Serial2000 may be individually configured for RS232, RS422 or RS485 operation at asynchronous speeds in excess of 4Mbits/sec. The high bandwidth 32-bit PC/104-Plus bus (PCI) ensures that all 8 channels can be operated concurrently at their maximum speeds. Up to 4 Serial2000 cards can be hosted on a single PC/104-Plus computer to provide up to 32 high performance serial ports.
The Serial2000 is provided with software drivers for the most popular operating systems including Windows2000/NT/CE/XP-E and Linux, and RTOS such as VxWorks and QNX.
High speed Asynchronous Serial Ports
Individually configurable R232/422/485 ports
Speeds in excess of 4MBits/s per channel
64 Byte FIFO per channel
High bus bandwidth PCI architecture
Flexible software/hardware handshaking
Easy configuration
Single +5V power supply