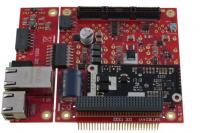 The SMT1024 is probably the most versatile PC/104 PSU in the World.
The SMT1024 is a modular PC/104 Power Supply Unit (PSU) that can be purpose built for individual systems to provide optimal DC-DC efficiency and variable wattage outputs on any of the voltage-rails.
The PC/104 format goes back more than 20 years when it was the norm to have multiple power-rails, as most semiconductors required +/- 12V and +/-5V, whereas current semiconductors require an even longer list of voltage-rails from 0.8V to 5V.
With it's enormous scope for customisation the SMT1024 will be the only PSU that your PC/104 stack requires.
PC/104 Power Supply for PCI/104 and PCIe/104 Modules
60Watts, when used with the external DC Power Source
24Watts, when using the Power over Ethernet Power Source
Fully configurable for providing a single, dual, triple or quadruple DC Outout