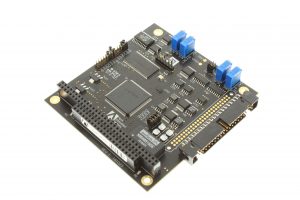 Introducing a PC/104 analog input module, the STX104.  It is a Commercial-Off-The-Shelf (COTS) module used in military, aerospace and industrial applications.  The STX104 is software compatible with many other cards resulting in a drop-in second source solution.
Analog inputs are 16-bit low-noise and low-drift. Sampling rate to 200K samples per second along with a variety of programmable voltage ranges.  All analog input data flows through a very large one million sample FIFO.   The STX104 is capable of 200K samples per second transient data recording with or without interrupts.
A triggering subsystem is in place for complex data collection schemes.   Triggering, that enables sampling to occur, has many start and stop events.  It is possible, for example, to trigger on a portion of a waveform.  Sampling rates are adjustable to 25nSec resolution.
Optional 2 mm connectors and cables, terminal board and cable accessories are available. Firmware modifications available on request. Contact factory.
Analog input ranges: ±10V, ±5V, ±2.5V, ±1.25V, 0-10V, 0-5V, 0-2.5V, 0-1.25V
Triggering Subsystem: 14 start events, 15 stop events, 12 synchronization events, delay timer and three possible triggering sequences.
Very Low Noise: Less than 1.5-LSB RMS over all input ranges (1.1-LSB typical). Noise reduction to 0.6-LSB RMS can be achieved using the jumper or software selectable sixteen sample moving average filter.
Environmental: Wide operating temperature range of -40oC to +85oC
Polarized connectors prevent incorrect cable installations
LED status: an LED displays valid card read/write transactions useful for both product development and field status.
Single +5V operation: Power less than 1.5 watts
Out-gassing and fire avoidance: we do not use any tantalum or electrolytic capacitors in any products.
Reliability: MTBF of 664,780 hours per MIL-HDBK-217F ground benign at 25oC.
Production: Designed and Assembled in Wisconsin, USA, utilizing an ISO 9001 manufacturing facility.
Individual Customer Assistance: We will do whatever we can to assist you in designing in our products.