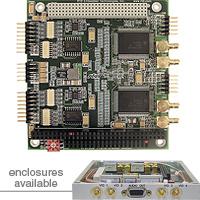 The VFG7330 is a versatile Audio/Video input board, useful for industrial monitoring and surveillance applications. It allows two Audio/Video streams to be captured simultaneously. Up to 8 video sources may be connected. Popular TV standards (NTSC, PAL, and SECAM) are supported. The board also supports stereo audio input.
Each input channel operates independently, and may be configured separately. An onboard PCI-to-PCI bridge allows the board to only require one PCI slot.
In addition to A/V capture, the board also features general purpose digital I/O. This digital I/O can be used to interface with various control equipment. Opto-isolation allows the I/O to be used in the presence of high voltages and current loops.
Dual independent Audio/Video input channels
0° to +70°C
Supports simultaneous capture of each channel
4 switched video inputs per channel (8 total)
Supports NTSC, PAL, and SECAM input
Supports Composite and S-Video inputs
9-bit Analog-to-Digital video converters
Adaptive multi-line comb filter
Up to 30 frames/sec per channel
2 stereo audio inputs per channel (4 total)
2 stereo audio outputs per channel
Opto-isolated Digital I/O
Linux Support via Video4Linux2
Optional rugged IDAN® enclosure system