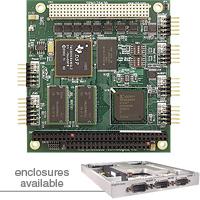 RTD's SPM176430 and SPM186420 dspModules feature the Texas Instruments TMS320C6416 DSP operating at 600 or 1000 MHz. dspModules speed up math-intensive operations, permitting the CPU to handle application specific tasks. By utilizing the on-board Flash memory the dspModule can be used as a stand-alone CPU. This reduces overall system cost and power consumption when a CPU is not needed. Multi-channel buffer serial ports (McBSP) provide for extensive I/O bandwidth up to 75 Mb/s each. SyncBus provides synchronization between cards.
Select dspModules allow for up to four expansion cards via a PlatformBus. The PlatformBus provides a dedicated 32-bit bus that connects directly to the DSP, simplifying development of custom analog front-end boards.
These dspModules are programmable in C/C++ via Texas Instruments Code Composer Studio and RTD's dspFramework libraries to streamline software development.
600 or 1000 MHz TMS320C6416 DSP
4800 or 8000 MIPS operation
-40° to +85°C (HR) -20° to +70°C (ER)
Eight 32-Bit Instructions/Cycle
2.0 or 1.0ns cycle time
32, 128 & 256 Mbytes surface-mounted SDRAM
800 MB/s transfer rate
2 or 4 Mbytes Flash
3 Multi channel Buffered Serial Port (McBSP) (max 75Mbit/s)
Watch-Dog Timer
VLIW instruction device
Bus master or target only mode.
Bus master or target only mode.
Stackable 120-pin PCI Expansion bus for use with PCI-104 and PC/104-Plus
All DSP resources are accessible from the PCI Bus