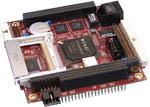 The Tomcat single board computer features the ultra-low power DMP Vortex86DX processor. Based on the PC/104-Plus industry standard form factor, the Tomcat supports PCI and ISA stackable expansion boards. With mid-range performance (800 MHz) and ultra-low power consumption (3.1W typ.), the Tomcat is well suited to size, weight, and power constrained applications. With no moving parts (fanless operation), full industrial temperature rating, soldered-on RAM, and a compact rugged form factor, it is ideal for operation in harsh, mobile, and/or remote environments.
The Tomcat is "headless". It is designed for applications that do not require any type of video output.
Like all VersaLogic products, the Tomcat is designed to support OEM applications where high reliability and long-term availability are required. From application design-in support, to its 5+ year production life guarantee, the Tomcat provides a durable embedded computer solution with an excellent cost of ownership. The Tomcat is manufactured and tested to the highest quality standards and is fully RoHS compliant. Customization is available, even in low OEM quantities.
Additional Information available at VersaLogic.com
Vortex86DX Processor 800 MHz performance with ultra-low power consumption
Fast Ethernet with remote boot support
Up to 512 MB soldered-on RAM for harsh environments
Two USB 2.0 ports support keyboard, mouse, and other devices
Four serial ports, IDE, and LPT
CompactFlash® socket for solid-state storage
Fanless operation - No moving parts required for CPU cooling
Extended Temp (-40° to +85°C) operation for harsh environments
MIL-STD-202G qualified for high shock/vibration environments