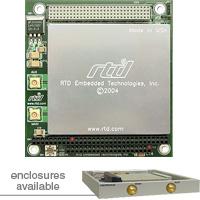 The WLAN17202 adds wireless networking capabilities to a PC/104-Plus system. It supports the 802.11a/b/g WLAN protocols that are widely used by notebook computers. It can be used in both Ad-Hoc and Infrastructure modes.
The WLAN17202 supports standard WLAN encryption methods, which enable a secure wireless network. WEP, WPA, TKIP, and AES are supported. The board features a hardware encryption engine, allowing for secure data transmission without impacting performance.
The board features two MCX jacks for dual antennas. It automatically uses the antenna with the strongest signal. The optional cable kit includes an antenna.
The WLAN17202 uses the popular Atheros AR5004X chipset, which is well-supported by wireless access points and software. Drivers are available for Windows and Linux.
802.11a/b/g Wireless LAN
Up to 54 Mbps in 802.11g mode
Supports Super AG mode with transfer rates up to 108 Mbps
Atheros AR5004X Chipset
Hardware-based encryption of WLAN data
IEEE 802.11i
Wi-Fi Protected Access (WPA)
Advanced Encryption Standard (AES)
Temporal Key Integrity Protocol (TKIP)
Wireless Equivalent Privacy (WEP)
Two MCX jacks for dual antennas
Drivers available for Windows and Linux
Optional cable kit with WLAN antenna
Optional rugged IDAN® enclosure system