What are PC/104 boards?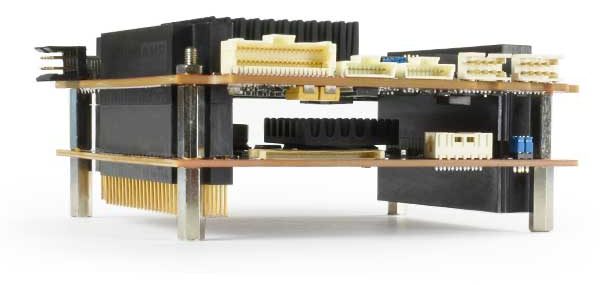 Rugged, compact, expandable embedded computers; that's the essence of the PC/104 family of products.
The PC/104 specifications define products that can interconnect with each other for compatibility across the wide number of manufacturers that support the platform. The PC/104 format, with its 90 x 96 mm (3.6 by 3.8″) footprint, provides compact and expandable processing for a wide variety of applications that need high reliability computing, or other advantages like off-the-shelf availability (why build it when you can buy it!).  The small size and the self-stacking nature of expansion boards offer a unique combination of attributes around which to build reliable, rugged, OEM systems.
What are PC/104 products used for?
PC/104 processor boards and expansion cards can be used in variety of OEM applications ranging from defense systems to industrial automation, to utility applications. 
In many case a single processor board can be used.  PC/104 processor boards are true SBCs (Single Board Computers). They can run on their own without any carriers, backplanes, or add-on boards. This greatly simplifies system design, bring-up, and production troubleshooting.
Most PC/104 SBCs include numerous on-board I/O ports, such as USB and Ethernet. Many PC/104 systems consist of just a single processor board and no expansion cards. If additional or specialized I/O is required, expansion is as easy as stacking it up. No additional connectors are needed..  There are several PC/104 types that support different expansion bandwidths.  The latest interconnect version supports PCIe Gen 3 x16 signals. 
Who should use PC/104 products?
If your OEM application requires a rugged, proven, compact form factor to deal with high levels of mechanical stress, then PC/104 is right for you. Due to its size and mechanical design, the PC/104 format is inherently rugged and durable. The mounting points, connectors used, and small cross section, limit board flex and provide excellent performance in high shock and vibration environments.  PC/104 processor boards are available from a number of manufacturers, in a wide range of performance levels, with incredible amounts of on-board I/O. Take a look at what is packed on a single PC/104 processor card.
Are there other advantages?
In addition to their ruggedness, a large ecosystem of support, compact size, and excellent compatibility between various PC/104 products, two more PC/104 advantages should be mentioned. 
Time to market!
PC/104 manufacturers may offer customization services but their stock in trade is the supply of off-the-shelf products which are already designed and tested. A huge advantage with PC/104 products is being able to pick and choose an excellent embedded computer board from a wide selection of suppliers, and then immediately design a new system around it. Purchasing existing designs off-the-shelf typically cuts 12 months or more off of project development time, compared with designing a processor board from scratch.
Flexibility!
Whether it's during initial development, or years later when you're adding new features to your product, the flexibility of the PC/104 platform is a big advantage. The ability to add on new I/O functions, without changing the rest of the existing system, is a major advantage. Alternatively if you want to retain an existing I/O configuration, but upgrade the system with a more powerful processor, PC/104 supports that as well.
PC/104 also enables OEMs to standardize on a common CPU platform, but to use different I/O configuration for various products in their portfolio.  There are a wide range of CPU options available in PC/104 format, including frugal low-power X86 processors through Intel®'s Atom, Core and even Xeon family processors.
Where can I get them?
PC/104 processor and I/O expansion products are available from a wide range of vendors. The large PC/104 ecosystem makes it easy to configure and assemble a complete system, even with specialized I/O functions, in record time. Here's a list of some PC/104 suppliers.
What is the PC/104 Consortium?
The PC/104 Consortium is an industry trade group that develops and sets standards for various PC/104 products.  The carefully designed and tested specifications ensure mechanical and electronic compatibility across all the suppliers that design and manufacture PC/104 products.
If you would like to learn more about becoming a PC/104 Consortium member, using any of the PC/104 standards, or participating in the development of future product specifications, please contact the Consortium at Info@PC104.org.
Frequently Asked Questions
How do PC/104 products compare to Raspberry Pi boards?
PC/104 and Raspberry Pi are similar in that they are both full SBCs that are ready to power-up out of the box.  However, compared with Raspberry Pi, the PC/104 eco-system consists of a wide range of processor types and performance levels that are compatible with a wide range of desktop and real-time operating systems.  
How do PC/104 products compare to COM Express products?
Unlike Com Express, a PC/104 board is a full SBC with processor and its own complement of on-board I/O. With COM Express it's necessary to pair a COM (CPU) board with a custom-made I/O board, and get them working together; all of which adds to the bring-up time for a new project.   Additionally PC/104 is more expandable.  With COM Express once a COM has been mated to an I/O board there is no more expansion for stacking.  In the case of PC/104 it's simple to continue to add more I/O or storage by stacking more off-the-shelf modules from the wide range of suppliers.  
Are they good for industrial automation projects?
Yes, the inherent ruggedness of PC/104 is a big plus in harsh environment s.  In addition the extensive range of expansion options makes it easy to configure a controller with the desired features right off the shelf without resorting to custom designs.