What is PC/104-Plus?
Purpose
The PC/104-Plus specification establishes a standard for the use of a high speed PCI bus in embedded applications. Incorporating the PCI bus within the industry proven PC/104 form-factor brings many advantages to its users, including fast data transfer over a PCI bus, low cost due to PC/104's unique self-stacking bus, and high reliability due to PC/104's inherent ruggedness.
Background
A PCI-enhanced version of PC/104 was developed by Ampro Computers, Inc. (Sunnyvale, Calif) and offered to the PC/104 Consortium in September 1996. The Consortium formed a working group to review and finalize the specification, and PC/104-Plus was subsequently approved by the Consortium's voting members in February 1997.
The main objective in defining an addition of PCI to PC/104 was to preserve the attributes that have made PC/104 so successful in embedded applications, namely:
Compact …………………………………..3.6 by 3.8 inches (90 x 96 mm) module size
Self-stacking ……………………………..expands without backplanes or card cages
Pin-and-socket bus connector……….reliable in harsh environments
Four-corner mounting holes ………….resistance to shock and vibration
Low power consumption ………………low power consumption and low heat generation
Fully PC compatible …………………….reduced development costs and fast time-to-market
In addition, it was important that the new embedded form of PCI also be . . .
Stackable and usable along with standard PC/104 modules (in the same stack)
This added requirement enables newly designed PC/104-Plus modules to be used in conjunction with the wide variety of preexisting PC/104 "legacy" modules.
Since the 104 pins of the standard PC/104 bus connectors are fully occupied with the signals of the "ISA" (PC/AT) bus, a new 120-pin stackable connector was needed to handle the additional signals of the 32-bit PCI bus. A 120-pin high-density (2mm) connector that precisely matches the stacking and other dimensional requirements of PC/104 was developed. A unique connector pin "shroud" was also created, to: (1) guide the male portion of the PCI connector as it mates with the female portion of the next connector in the stack; and (2) protect the PCI connector pins, which are slightly thinner and therefore somewhat more vulnerable than those of the ISA connector.
The resulting combination of PC/104 with PCI, called "PC/104-Plus," meets all the objectives listed above. In addition, extensive simulations have been used to validate its reliability for both current 33 MHz PCI bus chipsets and future 66 MHz PCI silicon.
PC/104-Plus Specification Overview
Figure 1 shows the basic mechanical dimensions of a PC/104-Plus module. The module's form-factor matches that of PC/104, so PC/104-Plus can be said to be "PC/104 form-factor compliant". The new self-stacking 120-pin high-density (2 mm) PCI bus connector fits between the standard PC/104 mounting holes along the edge opposite the regular PC/104 (ISA) bus, so it consumes minimal space (approximately 10%).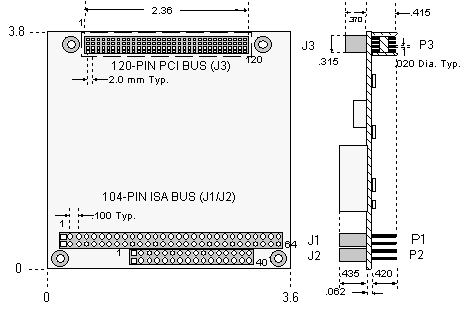 Figure 1. PC/104-Plus Basic Mechanical Dimensions
Here is a brief summary of the basic specs of PC/104-Plus modules:
Module dimensions …………………………………………3.575 x 3.775 in. (same as PC/104)
Spacing between stacked modules ……………………0.6 in. (same as PC/104)
Data throughput (max.) ……………………………………132 Mbytes/sec (26 x PC/104)
Bus drive current (min.) …………………………………….3 mA (most signals)
Bus load current (max.) ……………………………………700 uA
Number of PCI modules per stack (max.)……………..5 (includes "base" CPU module)
Figure 2 illustrates a typical PC/104-Plus stack. 8- and 16-bit PC/104 (ISA) modules can be stacked along with 32-bit PC/104-Plus (PCI) modules, provided that similar type modules are adjacent to each other. This results in maximum system expansion and configuration flexibility.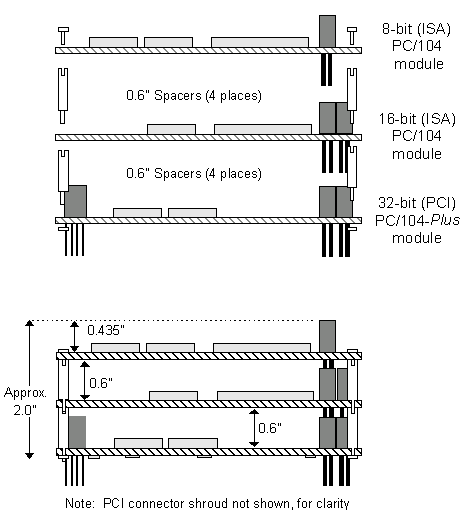 Figure 2. Typical PC/104 and PC/104-Plus Module Stack
PC/104-Plus, like PC/104, is essentially a repackaged version of PCI that is optimized for the unique requirements of embedded systems — where space is scarce and ruggedness is paramount.
Although PC/104-Plus modules provide connectors for both buses, the "120-pin PCI bus" and the "104-pin ISA bus," only the PCI bus usually connects to circuitry on such a module. The ISA bus connectors are only there to pass the ISA bus on for possible use by the next module in a stack.
Current status of the PC/104-Plus standard
PC/104-Plus shows every indication of following in the footsteps of its predecessor. Numerous companies have announced support or begun development programs based on PC/104-Plus. Products being developed include high performance single-board computers, full-motion video interfaces, high speed LANs, communications interfaces (100BaseT, USB, IEEE-1394, etc.), high performance data acquisition and control interfaces, and PCI bus adapters and bridges.
Copies of the PC/104-Plus Specification are available at no charge to individuals and companies developing embedded systems. For further information, contact the PC/104 Consortium.
Comparison of PCI Form-Factors
Desktop PCI
Passive
Backplane PCI
PMC
CompactPCI
Small-PCI
PC/104-Plus
Dimensions (in.)
Long: 12.3 x 3.9
Short:
6.9 x 3.9
12.3 x 3.9
5.9 x 2.9
6.3 x 3.9
3.4 x 2.1
3.8 x 3.6
Area (sq. in.)
Long:
48
Short: 24
48
17
25
7
13
Bus
Connector
Edge-Card
Edge-Card
Pin & Socket
Pin & Socket
Pin & Socket
Pin & Socket
Includes
ISA bus
No
Yes
No
No
No
Yes
Installation
Plane
Perpendicular
Perpendicular
Parallel
Parallel
Parallel
Expands
Without
Additional Slots
(Self-Stacking)
No
No
No
No
No
Yes
Positive
retention
No
No
Yes
Yes
No
Yes
Standards
Body
PCI-SIG
PICMG
IEEE
PICMG
PCI-SIG
PC/104
Consortium
Primary
Application
Area
Desktop:
motherboard
expansion
Industrial:
backplane
expansion
Industrial:
VME mezzanine
Industrial:
backplane
expansion
Laptop:
factory
options
Embedded:
SBC expansion
Download the PC/104-Plus specification