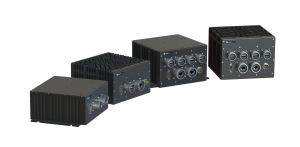 The ADLMES9200 is a successor to ADL's popular IP65 ADLMES8200 rugged chassis system. Design improvements include lower weight, lower cost, quick and reliable IP67 integration as well as rugged features including MIL-STD 810G shock and vibration and MIL-STD 461F/704F/1275D compliance capability. It is compatible with all of ADL's PC/104 and 3.5" SBCs and power supplies.
Our ADLMES9200 rugged chassis systems are SWaP-optimized for space-constrained military / defense applications for mobile, tactical, airborne and ground vehicles.
Designed to survive MIL-STD 810 rugged environments, the ADLMES9200 can suit the needs of a broad range of rugged uses from the ground up.
Customize Your ADLMES9200 Today
Custom sized variants available through ADL's system design services.
For more information on the ADLMES9200 or how it can be customized to a specific application, contact our experienced team of engineers today.
Two Size Profiles Available
IP7-rated EMC-Compliant gasket(s)
Passive Fanless and High-Power Conductive-Cooled Designs
Space for 3x or 5x PC/104 Cards
Designed for MIL-STD 810F shock and vibration. Options for MIL-STD 461/704/1275 power and EMI specifications available
Uni-body design
Compatible with ADL PC/104, 3.5" SBCs and power supplies
Customizable Front I/O Plate For Feature and Function