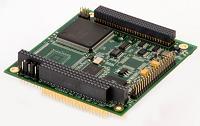 The AVC4000 integrates on a single PC/104-Plus card 4 real-time video frame grabbers for capturing video from 4 independent and asynchronous composite video sources (NTSC or PAL). The AVC4000 features built-in video multiplexers that allow the selection of four sources from up to 8 inputs. The selected inputs can be scaled, cropped and positioned under software control and alpha blended with OSD text and graphics. Furthermore, the 4 video input channels can be arranged into a number of pre-defined or custom views under software control to make up a single D1 stream. The size and position of each of the channels is adjustable and allows custom PiP, PoP and tiled views to be created as required. Pre-defined views exist for displaying each input channel as a full size D1 input and for displaying each video channel as CIF sized quadrants making up a full D1 capture.
Utilising the 32-bit PCI architecture, the AVC4000 overlays the captured video directly onto the host system VGA display buffer or system memory with minimal host CPU intervention and loading. The AVC4000 features 2 analog video output paths for easy connection to a separate video recorder or display unit. The analog outputs can configured to display the same video stream as the capture or an alternative channel arrangement again under software control.
The AVC4000 comes with a set of well-documented comprehensive SDKs that minimize development risk and shortens time-to-market. The SDKs are available on popular embedded operating systems such as Windows XP / XP-Embedded and Linux.
Typical applications include high performance image capture, vehicle-based video capture, real-time situational awareness, law Enforcement, crime scene recording, remote video surveillance, multi-camera security application, asset monitoring, traffic monitoring and control as well as video acquisition and analytics.
Real time video capture to system memory or overlay to system VGA screen
4 input video channels can be arranged in custom configurations creating a single D1 capture
Full PAL/NTSC resolutions (up to 720 x 576 PAL, 720x480 NTSC)
Total of 8 composite video inputs; 2-input software controlled video multiplexer per channel
Alpha blended text and graphics overlay on Live Video
Composite and s-video outputs
Support for multiple AVC4000 devices in a PC/104-Plus system
PC/104-Plus DMA operation for low host CPU usage
High performance 133Mbytes DMA burst transfer on PC/104-Plus
Drivers for Windows-XP, XP-Embedded and Linux
Low power rugged PC/104-Plus form factor
PC/104-Plus Universal Add-in module
Operating temperature: 0°C to +60°C or -40°C to +85°C