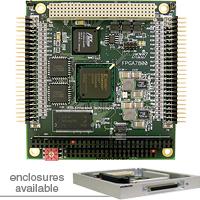 Get the convenience of an off-the-shelf product that can be programmed to do exactly what you need. Many digital functions can be realized in the 200,000 gate Spartan II FPGA. 3.3 volt outputs with 5 volt tolerant inputs and ESD protection provide a rugged I/O interface. Choose ISA or PCI interface.
FPGA6800 ISA bus version features 99 I/O or 72 I/O with individual grounds, 82C54 with three 16-bit timer/counters, 50 MHz clock and user clock socket, 256Kbytes of fast SRAM, user defined jumpers, and a user tri-color LED.
FPGA7800 PCI bus version offers RTD custom VHDL coding to your specifications. 48 ESD protected I/O lines, 8 Mbyte SDRAM, 50 MHz clock, and two 82C54 counter/timers.
-40° to +85°C
Off-the-Shelf FPGA Platforms for user and RTD custom designs
Xilinx Spartan II XC2S200 FPGA with 200,000 gates and configuration flash
TTL compatible 3.3 Volt outputs, 5 Volt Tolerant Inputs
Dedicated Clock inputs
ISA bus and/or PCI bus connects directly to FPGA
48 to 99 Digital I/O
All I/O is ESD protected (human body model)
50 MHz oscillator connected to Spartan II clock input
8-pin DIP socket for user installed oscillator connected to Spartan II clock input
2 MB SDRAM or 256Kbytes x 8 Fast SRAM
8254 counter/timers (three 16-bit counter/timers)
User defined jumpers (can be used as base address, for example)
Tri-color LED
-24mA / +24mA (source / sink) on all I/O