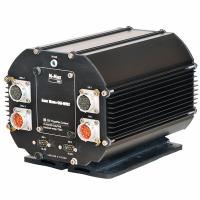 • CAN-enabled gateway computer supporting Multifunction Vehicle Bus (MVB)
• Rugged fanless system with shock and vibration protection
• Two redundant MVB channels
• Four isolated CAN interfaces
• Two isolated Serial interfaces (RS-232/422/485)
• IP65 dust and moisture protection
• Operates from -40 to +70 °C
• Shock handling up to 6g, Vibration up to 2g
The Gateway-CAN-MVB2 rugged computer is used to decode signals between Russian Rail Road continuous Automatic Train Control (ATC) systems with CAN interfaces such as CLUB-U, BLOK or similar devices and onboard systems utilizing Multifunction Vehicle Bus (MVB). This fanless intelligent Gateway is designed to be used in onboard safety systems installed in locomotives, high speed trains such as SAPSAN (Velaro RUS), Lastochka (Desiro RUS) and others. The system can be easily adapted to the technical requirements of different railroad vehicles.
This IP65 rated system is housed in a rugged aluminum enclosure with dual shock and vibration protection. It is based on proven PC/104 technology, and its compact design and low power makes it the ideal solution for on-board smart interface conversion.
CPU: Intel 1.66GHz Atom Processor N450
RAM: 512MB DDR2 (soldered on board)
Data storage: SSD 4 - 16GB CF
Multifunction Vehicle Bus ports: 2x redundant MVB channels (1.5 Mbaud, Isolation by transformer)
Controller Area Network ports: 2x Isolated CAN interfaces ISO 11898 compliant, 1Mbps (Optional: 4x CAN interfaces)
Serial ports: 2x Isolated RS232/422/485, up to 460.8 Kbps
Software: Linux, Windows or QNX w/preloaded software
Power Consumption: 16W
Power:
+18 to +75 V DC (isolated). The system is immune to surge per EN-61000-4-5 (± 4 kV, Criteria A)
Enclosure: Aluminum enclosure, Dual damping system
Passive cooling system (no fans)
Mechanical (WxHxL): 180 x 165 x 253 mm (without end caps and connectors
Dust/Moisture: IP65
Operating Temperature: -40 to +70C