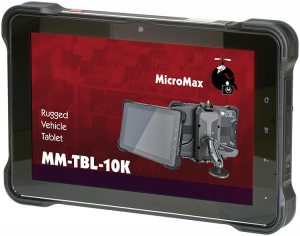 MM-TBL-10K is a rugged and reliable vehicle tablet, widely used in transportation (ground, rail, air and marine), agriculture, mining and other industrial applications.
The open-source software platform allows customization of the user's Android-based applications to run them on MM-TBL-10K.
The tablet will enable your employees to operate more efficiently and effectively.
Hardware, software and device interfaces can be customized according to user requirements.
Optional docking station enables mounting where convenient — especially useful for transport applications.
Main features:
Display: 10", LCD, HD (1280x800), brightness - 1000 cd/m² (max)
Processor: Qualcomm Cortex-A7 32-bit Quad-core processor, 1.1 GHz Qualcomm Cortex-A53 64-bit Octa-core processor, 1.8 GHz (Pro version)
RAM: 2 GB LPDDR3 (up to 4 GB for Pro version)
Storage: 16 GB eMMC (up to 64 GB for Pro version). Storage expansion: Micro SD 64 GB (up to 128 GB for Pro version)
GPU: Adreno 304, Adreno 506 (Pro version)
Operating system: Android 7.1.2; Android 9.0 (Pro version)
Power: 8-36V DC (ISO 7637-II compliant)
Battery: Li-Ion, 3.7V, 8000mAh (replaceable). Battery charging time: about 4.5 hours
Dimensions: 277mm x 185mm x 31.6mm
Weight: 1316g / 1357g (Pro version)
Operating temperature: -10°C to +65°C, 0°C to +55°C (charging)
Storage temperature: -20°C to +70°C
Vibration: MIL-STD-810G compliant
Shock: gravity drop resistance test: 120cm
Dust/moisture: IP67