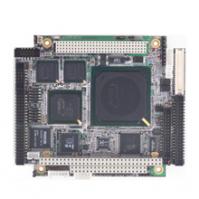 AMD LX800 PC/104-Plus SBC, CRT, LVDS, TTL, LAN, USB, COM, CFC
The PCM-3353 is a fanless, best-cost, performance PC/104+ SBC (Single
Board Computer) geared to satisfy the needs for various industrial computing equipment. PCM-3353 is ideal for communication, gaming and medical applications that require flat panel support using digital displays with TTL and LVDS interfaces and single Ethernet ports.
For those who want superior performance for various low-power embedded applications, PCM-3353 uses an AMD LX-800 processor clocked at 500 MHz, in conjunction with onboard DDR333 system memory.
PCM-3353 offers convenient connector layout, easy assembly, multiple I/O, and includes single 10/100Mbps Ethernet, four USB (Universal Serial Bus) 2.0 and four serial ports for easy system expansibility.
AMD low power LX800 500 MHz processor
24-bit TFT LCD interface, 18-bit LVDS LCD display
Supports up to 4 COM ports, 4 USB ports
Supports Embedded Software API and Utility
Supports embedded OS: Windows CE 5.0 , Windows CE 6.0 , Windows XP Embedded, Linux, QNX, VxWorks