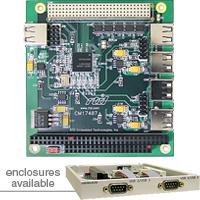 The CM17407 provided five independent USB 2.0 ports. It allows a PC/104-Plus system to directly interface with up to five USB peripherals. Additional devices may be connected via USB hubs.
USB port 1 provides up to 2.0A of power, which allows you to attach high-power USB devices without requiring a separate power source. USB ports 2-4 provide 500mA for standard peripherals.
The board provides standard USB type A connectors, which easily interfaces with off-the-shelf USB devices. For embedded interfaces, 10-pin DIL USB connectors are provided.
The module uses a standard EHCI/OHCI interface. It is compatible with all popular USB software stacks, and is natively supported by modern operating systems (Windows, Linux, WinCE, QNX, VxWorks).
-40C to +85C Operating Temperature
Five Independent USB 2.0 Ports
USB port 1 provides up to 2.0A @ +5.0V
USB ports 2 5 provide up to 500mA @ +5.0V
Each port supports all USB 2.0 speeds: High-speed (400 Mbit/s), Full-speed (12 Mbit/s), and Low-speed (1.5 Mbit/s)
Backwards compatible with USB 1.1 and 1.0 devices
NEC PD720101 USB 2.0 Host Controller
EHCI core for high-speed devices
Two OHCI cores for full-speed and low-speed devices
Standard ECHI and OHCI software interface
Natively supported by all modern operating systems with USB 2.0 support
Optional rugged IDAN® enclosure system