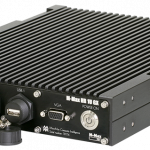 The M-Max HR 1U GX is a high-performance compact rugged low-cost computer based on Intel Celeron CPU. The computer expands our M-Max HR 1U Systems Family.
The fully-ruggedized fanless 19/2″-type aluminum chassis uses natural convection and conduction cooling to comply with MIL-STD-810 standards.
The versatile mechanical design of the enclosure allows combining several systems into one assembly either side by side or by stacking, as well as mounting on a flat surface or into a 19″ rack.
COTS technology components allow configuring the system to comply with a wide variety of airborne, marine and ground vehicle applications.
Read more ›