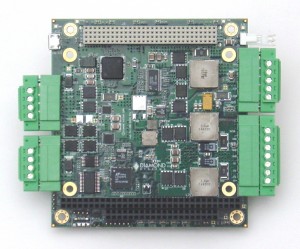 Jupiter-MM-5000 high-efficiency, high-precision power supplies consist of a PC/104 form factor module with complete DC-DC voltage regulator circuitry, integrated thermal solution, detachable screw terminal block I/O connections, and PC/104 bus connectors. The wide input voltage range of 7 to 34VDC is compatible with industry standard 12V, 24V, and 28V inputs.  PC/104 and PC/104-Plus models are both available.
The Jupiter-MM-5000 uses a state-of-the-art design with the latest generation high efficiency components. It delivers efficiency as high as 95 percent, reducing input power requirements as well as heat generation.
Jupiter-MM-5000 was engineered for rugged applications such as automotive or on-vehicle. Extended temperature operation of -40°C to +85°C is tested and guaranteed. Low-profile, surface mount components reduce susceptibility to shock and vibration. Both a low profile heat sink and heat spreader cooling options are available. I/O connections are made with locking screw terminal blocks for the highest degree of ruggedness.
Several customization and minimum order quantity (MOQ) options are available for the Jupiter-MM-5000 power supply family:
Add 3.3V at 5A output
Add dual input power connectors with auto-cutover
Cooling Options
Both heat sink and heat spreader cooling options are available. Diamond Systems recommends that JMM-5000 power supplies with heat sinks be used only in applications with power dissipation of 100W or less. The heat spreader cooling option can be used for all output loads.
Up to 196W total output power at 25°C
+5VDC at 20A maximum
+12VDC at 8A maximum
Optional +3.3VDC at 5A maximum (minimum order quantities apply)
Extreme load stability: 0.35% maximum output voltage droop at 5V output, 0-20A load, VIN = 12V, TA = 25°C
Extremely low ripple: 12mV peak-to-peak at 5V output, 0-20A load, VIN = 12V, TA = 25°C
High efficiency: 92-94% at 5V output, 0-20A load, VIN = 12V, TA = 25°C
Excellent transient load response: +/-72mV at 5V output, 25-75% load step, 2.5A/usec ramp rate, VIN = 24V, TA = 25°C
Extreme temperature stability: +/-0.5% at 5V output, 10A load, VIN = 24V, TA = -40°C to +85°C
Input protection circuit protects from over/under voltage, reverse polarity, surges, transients, reflected noise
Output current limit and short circuit protection
Wide input voltage range: +7 to +34VDC input
Heat spreader and heat sink cooling solutions
PC/104 and PC/104-Plus bus connector options
Extremely rugged -40°C to +85°C operating temperature