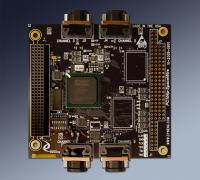 Utilize SpaceWire to communicate with the European Space Agency and NASA equipment utilizing the ECSS-E-ST-50-12C specification. SpaceWire is configured using routers to create a hierarchical point-to-point system with high speed parallel paths.
4 SpaceWire ports on a PC104p / PCI-104 form factor. Programmable link rates up to 200 MHz per port. Independent ports with DMA support. Windows, Linux drivers and user reference applications free with purchase.
Options for ROHS, additional memory, conformal coating.
ECSS-E-ST-50-12C
4 Ports
up to 200 MHz
Independent DMA support on each Port